People urged not to ignore eye problems to avoid long term damage to their eye health
A new service called COVID Urgent Eyecare Services (CUES) has been launched to support urgent eye care needs across Cheshire and Merseyside.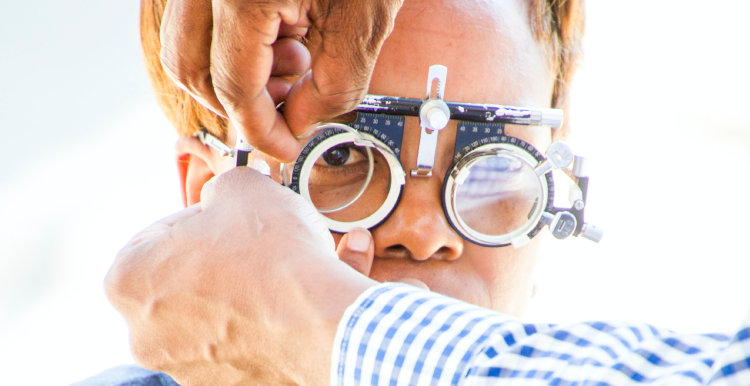 The CUES service will be delivered by local opticians in partnership with hospital ophthalmology services. The service will use technology to provide remote consultations to patients meaning more patients will be able to access services, either at or close to home, reducing the need for travel and hospital visits. The service provides the quickest access to the right care for patients. This is crucial as delays to treatment can have a serious impact on long-term eye health, and in some cases even sight loss. Accessing help early, via the CUES service, will increase the likelihood of a positive outcome for patients.
Patients in the area can access the service by first contacting any local opticians or by calling NHS 111.They will then be provided with a remote consultation and a personalised care plan appropriate to their condition. The care plan may support the patient to self-manage their condition or provide further professional advice and guidance, including prescriptions. In the event that a face to face consultation is absolutely necessary, patients may be referred to another location or hospital service. Measures have been put in place in hospitals and other services to reduce the risk of patients being exposed to, or passing on, Coronavirus.
Rupesh Bagdai, Chair of the North West Local Eye Health Network, said:
"The new CUES service offers patients timely professional care in a safe place that is appropriate to each patient and in keeping with social distancing rules. I would encourage all patients with eye problems to contact any opticians or call NHS 111 as soon as possible. The earlier their eye problem can be treated the better, as this will reduce the likelihood of any long-term effects on their eye health."

Mark Simpson, Independent Prescribing Optometrist and Director for Allister and Simpson Opticians, Neston, Cheshire, said:
"The NHS is working hard to keep you safe during the Coronavirus pandemic but you can still get help if you need it. If you are having issues with your eyes please don't put it off or delay treatment. There is no need to do so and the consequences on your sight could be detrimental."
In addition to any urgent eye care needs, patients in Cheshire and Merseyside are advised that some routine eye appointments are still going ahead, and unless an appointment has been cancelled, they may still attend if they are well.