City-wide testing under way in Liverpool
A ground-breaking mass testing programme is being piloted in Liverpool.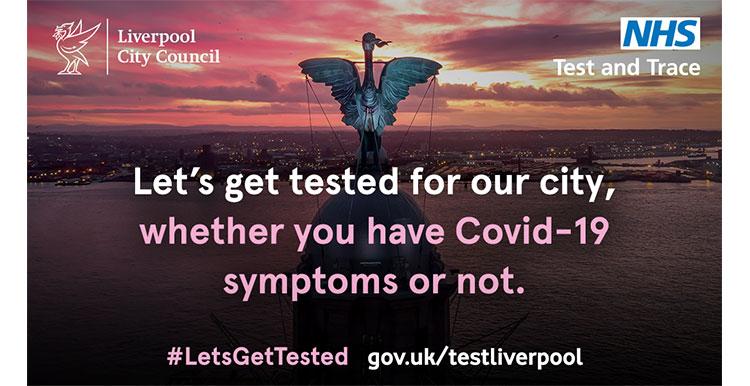 From Friday 6 November, a number of Covid-19 test centres will begin to be rolled out across the city, and everyone who lives and works in Liverpool is encouraged to go and get tested.
The aim of this programme is to quickly identify people who have the virus and reduce transmission. This simply means asking everyone to volunteer to be tested – regardless of whether they have symptoms or not – and for those who test positive to self-isolate straight away and prevent others from getting it.
The first six test centres will open their doors midday Friday and will be open until 7pm. These are:
Lifestyles Alsop Fitness Centre, 1 Walton Village, L4 6RW
Exhibition Centre Liverpool, Kings Dock, L3 4FP
Lifestyles Ellergreen, Ellergreen Road, L11 2XY
Lifestyles Park Road, Steble Street, L8 6QH
Liverpool Tennis Centre, Wellington Road, L15 4LE
Lifestyles Garston, Long Lane, L19 6PE
These six centres should only be attended by people who are not displaying symptoms. These and other centres that are being created will be open from 7am – 7pm every day and will accommodate walk-ins.
Please note that there may be queues at these locations. More centres will be opened in the coming days and it is expected that the initial programme will last for around ten days, with a view to it being extended.
Book a test
Testing slots can also be booked via www.gov.uk/testliverpool – or using the NHS Covid-19 App.
Anyone displaying Covid-19 symptoms can still attend any of the existing centres or a mobile testing unit which can be booked via www.gov.uk/get-coronavirus-test.
Learn more
To learn more about the mass testing and why it has been introduced in Liverpool, visit https://liverpoolexpress.co.uk/covid-mass-testing-your-questions-answered/.