NHS COVID-19 Vaccination Bus launches in Liverpool
The local NHS is working with Liverpool City Council, Arriva, and local GP practices to deliver a COVID-19 vaccination bus for the city.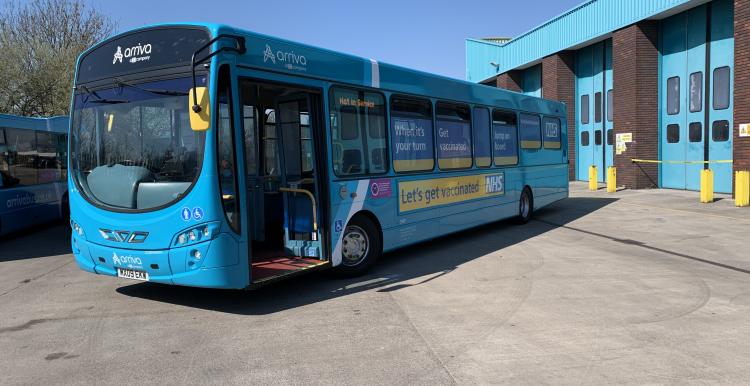 The mobile vaccination clinic, which launches today, is part of a plan to help improve vaccine access in areas where take-up has been lower. There is already evidence that people in more deprived parts of the city are less likely to have had the vaccine, as well as those in some local black and minority ethnic communities.
Over the coming weeks, the bus will visit a number of different locations across Liverpool, reaching out to people who haven't yet taken up the offer of an appointment at one of the city's existing vaccination sites.
Vaccinations on the bus will be offered on either a drop-in or booked appointment basis – details will be shared locally ahead of each visit.
Staffed by Primary Care Networks (groups of local GP practices working together), supported by Mersey Care NHS Foundation Trust, the vaccination bus will offer first dose COVID-19 vaccinations with no appointment needed to those most at risk from the virus.
People can receive a first dose on the bus if they meet any of the following criteria:
Are aged 50 or over
Are Clinically extremely vulnerable (previously asked to shield)
Have an underlying health condition which places them at higher risk from the virus
Have a learning disability
Are an unpaid carer
Are a frontline health or social care worker
Earlier this week it was announced nationally that the NHS will begin to offer vaccinations to those over 45. Currently, the Liverpool vaccination bus is only vaccinating over 50s and younger people who fall within one of the groups listed above. This is to ensure it can focus on those most at risk of COVID-19. However, local GPs have already begun inviting people aged 45 – 49 to book an appointment at a local vaccination site, and this will continue over the coming weeks. People can also visit www.nhs.uk/covid-vaccination or call 119 anytime between 7am -11pm, seven days a week (free of charge), to find an appointment at a regional vaccination site. 
The NHS COVID-19 vaccination bus will also be supported by an engagement team staffed by the British Red Cross and other volunteers, who will be out and about in the neighbourhoods the bus visits to help encourage people to take up the offer through leaflet drops and door knocking. Staff and volunteers will be on hand throughout the day to provide information, reassurance, and answer any questions people might have about getting the vaccine.
Anyone who is in one of the above groups but hasn't yet received their first vaccination or booked an appointment is encouraged to get vaccinated on the bus when it's in their neighbourhood. People outside of these groups are asked not to attend as it won't be possible to offer them a vaccination.
People in the initial priority groups who can't make it to the bus when it's visiting their area should contact their GP practice to organise an appointment at a local clinic.
Dr Fiona Lemmens, a local GP and Chair of NHS Liverpool Clinical Commissioning Group (CCG) said:
"The COVID-19 vaccination programme has been going really well in Liverpool. We've already provided more than 270,000 vaccinations across the city, and our hope is that by taking the vaccination bus even closer to where people live, we'll be able to reach many more people who may have struggled to get to a clinic so far.
"We know that some people might feel worried about having the vaccine, but we really want to reassure everyone that the COVID-19 vaccine is safe and effective. Having it is the best possible way to protect yourself and your loved ones from the virus, and help us all get life back to normal as quickly as possible - so please do visit the bus when it's in your area, and get vaccinated!"
Matt Ashton, Director of Public Health for Liverpool said:
"Due to the determination of our city to do the right thing and our commitment to looking after ourselves and each other, our cases are now below the national average, with around 15 cases per 100,000 people. Coupled with a good testing offer and the successful roll out of our vaccination programme, we are making good progress and should be really proud of how far we've come.
"Getting vaccinated gives you the best protection against coronavirus, and although some people may have experienced mild side-affects, this is a sign that the vaccine is working and triggering your immune response. It's also worth saying that feeling unwell after the second dose is much less common, so I encourage everybody to take up the offer of a vaccine when your opportunity arises."
If you are eligible but have any concerns about getting vaccinated, please speak to your GP or talk to one of the bus vaccination team for advice.
For more information about the vaccination programme in Liverpool, please visit: www.liverpoolccg.nhs.uk