NHS reminds people to get their second Covid-19 jab
The NHS in Liverpool is stressing the importance of getting a second dose of the Covid-19 vaccine.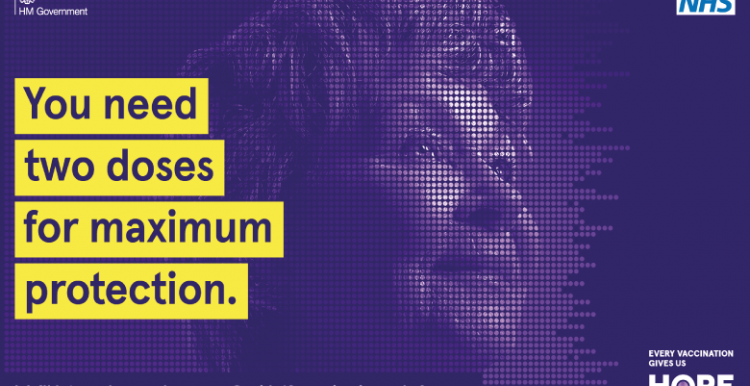 The first dose of the vaccine gives good protection from Covid-19 after around three or four weeks, but the second dose is needed for longer lasting protection.
Although the majority of people return for their second dose as planned, records show that a number are still outstanding locally, leaving individuals without the full benefits of vaccination.
Health leaders are calling on people to keep their second dose appointment, and making clear that it's not too late to get a second dose if you've now gone more than 12 weeks since the first.  
Until recently, people had been invited to receive their second Covid-19 vaccine dose between 11 and 12 weeks after the first. However, the government has now announced plans to reduce this to around eight weeks for over 50s and others at higher risk from Covid-19.
People who book their vaccination via the national booking service website or 119 should make an appointment for both doses at the same time, while those who visited a GP-led vaccination site are invited back when their second dose is due.
Anyone who has now gone over 12 weeks (84 days) since their first dose and has yet to receive their second dose should contact their GP in the first instance.
Dr Fiona Lemmens, a local GP and Chair of NHS Liverpool Clinical Commissioning Group (CCG) said:
"We've seen really good take-up of the Covid-19 vaccine locally, which is so important for helping protect ourselves and the people around us, particularly as restrictions ease. However, we only get the full benefit of vaccination if we have both doses that are being offered, so make sure you attend for your second dose.
"Please don't worry if you missed your second appointment – it's still not too late. If you had your vaccination at a local GP-led site you can speak to your own practice about rearranging your appointment, or use the national booking website or call 119 again if you booked your first dose through that route.
"We know some people might be concerned by reports of very rare blood clots in a small number of people who had the AstraZeneca vaccine. However, these rare events were associated with a first dose of the vaccine, and the guidance is that people should still receive a second dose of AstraZeneca if they received a first dose."  
Matt Ashton, Director of Public Matt Ashton, Director of Public Health for Liverpool said:
"Although Covid-19 infection rates remain low in Liverpool, we are seeing an increase in the number of cases in Merseyside of a variant originally identified in India. 
"This new variant has been identified as being more transmissible than other strains of Covid-19, and therefore there is the potential for rates to increase rapidly again.
"Early evidence shows the new variant is not tending to affect people who have been vaccinated, so it's more important than ever for those eligible to accept their appointment.
"The Covid-19 vaccine is safe, free, and effective.  By getting your vaccine you will help protect yourself, your friends, your family, and your loved ones."
For more information about the vaccination programme in Liverpool, please visit: www.liverpoolccg.nhs.uk