Survey launched to hear the views of 16-25 year olds on the Covid-19 vaccine
As the Covid-19 vaccine roll-out is expanded to include anyone aged 18+ we want to hear from young people in Liverpool to gather their opinions on the vaccine.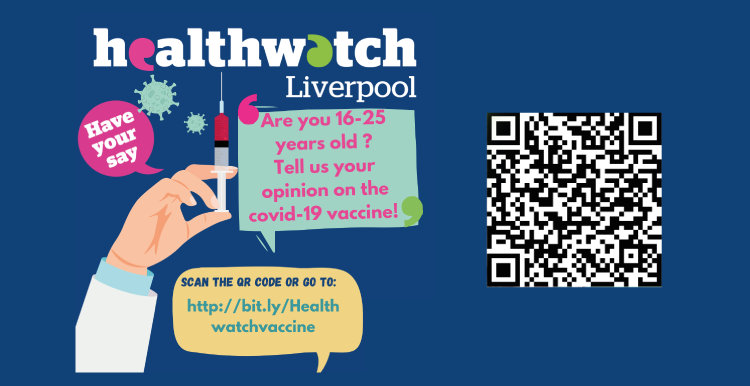 Healthwatch Liverpool are conducting research to gather the views of young people and young adults aged 16-25 to see what their opinions are on getting the Covid-19 vaccine and any information they might have surrounding it.
This follows on from an earlier piece of work In February 2021 with members of the community in order to gain an understanding of the kinds of attitudes and concerns there are surrounding the vaccination programme in Liverpool.
We want to know whether 16–25-year-olds in Liverpool will take up the Covid-19 vaccine when offered and their wider views surrounding the vaccination programme. This information will be fed into NHS Trusts, Liverpool CCG and public health bodies in the city. 
We'll be getting out and about to speak to young people's groups in the city - please get in touch if you'd like us to come and visit a group that you are involved with.
You can also help by circulating this survey amongst your group. We would like to have replies from as diverse a range of young people as possible. There will also be a chance for young people to further get involved with our project in online or in person focus groups or interviews, so please let us know if there is any interest.  If the survey is not accessible or appropriate for the young people and young adults you work with then get in touch and a member of our engagement team can facilitate an online/in person focus group for you. 
Poster and promotional images
To help promote our survey, we have a poster and social media image available to download below: