Mersey Care Listening Event September 2017
Find out what patients and visitors told us about Mersey Care when we visited in September 2017.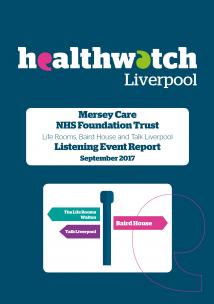 Summary
In September 2017 Healthwatch Liverpool visited 3 local Mersey Care NHS Foundation Trust services to gather service user and visitor feedback: the Life Rooms in Walton on 12 September, Baird House in Wavertree on 14 September and Talk Liverpool in Liverpool city centre on 26 September
The Life Rooms in Walton provides a community meeting space with a cafe and library on-site. Mersey Care's Recovery College courses and Pathways Advisors are available to provide support, and events organised, like the careers fair that was held on the day Healthwatch visited.
There are several Mersey Care services based at Baird House that support people experiencing mental ill health, including Community Mental Health Teams (CMHT), the Early Intervention Team, and the Homeless Outreach Team.
Talk Liverpool provides a variety of talking therapies at different sites across Liverpool, both in groups and on a one-to-one basis. Heathwatch visited a city centre site to speak to people using the services there.