Liverpool Heart and Chest Hospital Listening Event Report June 2018
Find out what patients and visitors told us about Liverpool Heart and Chest Hospital when we visited in June 2018.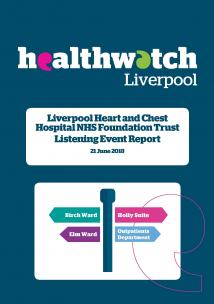 Summary
On 21 June 2018 we visited Liverpool Heart and Chest Hospital and spoke to patients and their families about the care that they receive there.
We made the following observations and recommendations:
The most positive feedback was about the staff and the care and treatment provided.
A large majority of patients said that staff had enough time for them, and that they had been given enough information by the hospital.
There were some suggestions for improvements to the outpatients department, which  were fed back to the hospital on the day of our visit.
Feedback about the accessibility to, and getting around in the hospital was a bit more mixed
Patients gave an average overall rating of 4.7 stars out of 5.