Experiences of using A&E departments in Liverpool
Find out what patients in Liverpool A&E departments think about the service provided there.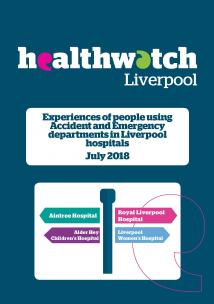 Summary
Together with other local Healthwatch we visited A&E departments and spoke to patients in:
Aintree Hospital
Alder Hey Hospital
Liverpool Women's Hospital
Royal Liverpool Hospital
We know that local people are very supportive of our local hospitals but we had heard from some people that they weren't happy with their experience of busy A&E departments.
We have all seen the stories in the news about the pressures on the NHS, especially during winter, and how some A&E departments can struggle to cope. Sometimes this is "blamed" on people going to A&E when they should have gone to their GP or walk-in centre.
We wanted to find out more about what local people thought about their experiences of using A&E departments in Liverpool. Learning from these experiences can help make A&E services better for all of us.
We made the following recommendations:
We know that hospitals, community services and commissioners are doing a lot of work to help people with long term conditions avoid the need to attend A&E. This work needs to continue.
Hospitals serving similar patient populations should share lessons learnt and initiatives which have improved patient care. This is particularly important for Aintree and the Royal due to the forthcoming merger.
Hospitals should give A&E patients regular updates about how long they might have to wait to be seen. Our survey shows that a lack of information about possible waiting times is a source of frustration for patients.
Our survey shows that patients really appreciate the care and dedication of staff who work in sometimes difficult circumstances. We ask that hospitals do all they can to support staffing levels and staff wellbeing.
We ask that hospitals and commissioners show how patient feedback has been used to help make decisions about planning and improving services.