Aintree University Hospital Listening Event Report July 2018
Find out what patients and visitors told us about Aintree University Hospital when we visited in July 2018.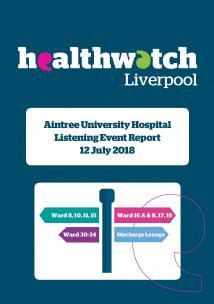 Summary
On 12 July 2018 we visited Aintree University Hospital and spoke to patients and their families about the care that they receive there.
We are aware that the NHS is under pressure and that staff at Aintree Hospital are already working hard to make patient's experiences the best they can be.
Our survey has shown generally high levels of satisfaction amongst the patients that we spoke to, however there are some areas where patients have expressed concerns.
We made the following recommendations and observations:
Our survey shows that patients really appreciate the care and dedication of staff who work in sometimes difficult circumstances. We ask that hospitals do all they can to support staff wellbeing.
There were concerns expressed by patients about staff appearing to be rushed and overworked and the impact this has on patient care. We know that staff recruitment and retention is an issue across the NHS. We know that Aintree Hospital already has schemes in place to improve recruitment and retention of staff. We would encourage Aintree to continue their focus on this issue and liaise with other similar Trusts to share best practice.
A minority of patients we spoke to did not feel they had been given enough information about their treatment. We would encourage the hospital to look at this issue further to see what can be done.
We would also encourage the hospital to take steps to ensure that all patients are aware of which nurse is in charge of their care and also that patients are given an estimated date for their discharge along with regular updates about this. Our survey has highlighted these two areas as issues for patients.
Our survey has also highlighted that, whilst some patients don't mind being moved during the night, there are instances where the reason for the move is not explained to patients or the move itself causes upset to patients. We would encourage the hospital to make sure that the reasons for a move at night are always explained to patients and that they are given suitable emotional support, if needed, to cope with a move.
We ask that Aintree Hospital continues to show how patient feedback has been used to help make decisions about planning and improving services.