Patients with Long-term Conditions; Continuity of Care at the GP Report - November 2018
Read our report about the experiences of people with long-term health conditions at their GP practice.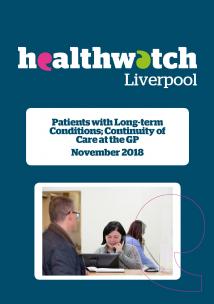 Summary
Our report takes a look at GP continuity of care in relation to patients with long-term conditions.
The Department of Health defines a long-term condition as: "a condition that cannot, at present, be cured; but can be controlled by medication and other therapies. Examples of Long-Term Conditions are diabetes, heart disease, and chronic obstructive pulmonary disease."
Key Findings
Many patients who only attend a GP practice occasionally have little or no preference for which GP they see; getting an appointment when they need it was the most important consideration.
Patients who attended GP practices more frequently, perhaps because of a long-term condition, had more reason to value continuity of care. For some patients seeing the same GP or nurse was an important factor in their experience of primary care.
Research has shown that where there is continuity of care at a primary care level, this can reduce the numbers of patients admitted to hospitals; if a GP knows the patient, they are better able to judge what is 'usual' for that patient and thus take appropriate action, compared to a GP who has not met the patient before.
With the GP Five Year Forward View there will be changes to GP services, so it is important to see if there are additional ways or services that can support and provide continuity of care to patients with long-term conditions. The model used by diabetes services in Liverpool in recent years may be a useful example of providing continuity of care outside of GP practices for patients with other relatively common long-term conditions.
Some patients also highlighted the importance of organisations like the Stroke Association or British Lung Foundation for providing information and support, including peer support to patients with long-term conditions.