The Walton Centre Listening Event Report - November 2018
Find out what patients and visitors told us about The Walton Centre when we visited in November 2018.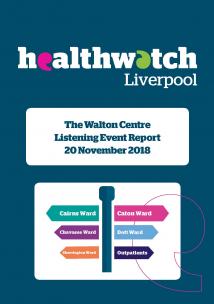 Summary
On 20 November 2018 we visited The Walton Centre and spoke to patients and their families about the care that they receive there.
We are aware that the NHS is under pressure and that staff at the Walton Centre are already working hard to make patients' experiences the best they can be.
Although it is difficult to generalise our findings due to the small number of people we spoke to, the patients and visitors were in general very happy with the service they received from the Walton Centre. As the feedback was very positive we only have two recommendations:
It was clear from the feedback that although the staff at the Walton Centre can face very difficult and challenging circumstances, they maintain a caring and supportive nature and remain dedicated to their work, which the patients acknowledge and appreciate. We ask that the Walton Centre continues to support their staff and promote their wellbeing so that this admirable work ethic can continue.
A minority of patients we spoke to felt that the communication about their treatment between professionals (specialists and front line staff) could be improved so that information can then be passed on in a more timely manner. We encourage the hospital to explore whether this is a more prevalent issue and if there is something that can be done to address it.