Community Frailty Pathway Engagement Report - May 2019
Read our piece of engagement about patient and carers' experiences of a pilot project focused on providing community-based care for frail older people.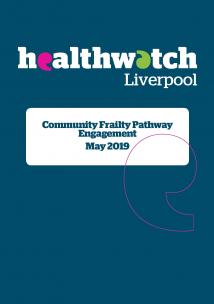 Summary
Liverpool Clinical Commissioning Group (Liverpool CCG) have run a 100-day pilot project focused on providing community-based care for frail older people. Through the pilot, frail people over the age of 65, identified through five GP practices in Woolton, Aigburth, Garston, Gateacre, and Allerton (the WAGGA neighbourhood), were be referred to a Community Geriatrician who conducted visits in the patients own homes to carry out a geriatric assessment there.
The overall aim of this pilot is to enable older people to live safely within their usual place of residence, and offer greater care within the community to reduce missed appointments, hospital admissions, etc. This will be measured by monitoring patients' NHS records.
The aim of our engagement with patients was to capture people's experiences of care under this pilot and see whether this more personalised model of community based care led to an improved patient experience.
Suggestions
From the conversations we had it is clear that the scheme benefits patients and their carers not only in terms of their physical health needs, but also through the positive emotional and psychological impact of receiving person-centred care.
Based on the feedback we received, we make the following suggestions for consideration:
That the scheme be continued and extended across the Liverpool CCG area;
That all clinicians conducting home visits as part of the scheme should be skilled in quickly establishing a positive rapport with patients and their families. Additional training to support this should be provided where needed;
That patients and carers continue to be fully involved in discussions and decisions around their future care;
That all patients who receive a home visit as part of the scheme receive some form of written follow-up, providing an overview of what occurred during the visit, what next steps will be taken; and any other relevant contacts patients may need in their future care.