Healthwatch Cheshire and Merseyside NHS Long Term Plan Public Views Report
Thank you to everyone who completed our 'What Would You Do?' survey. Here you can read the full report.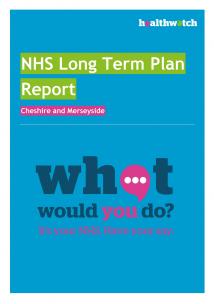 The NHS has produced a Long Term Plan, setting out all the things it wants health services to do better for people across the country.
For these plans to work, the NHS needs to shape local plans based on local needs. We asked people #WhatWouldYouDo to improve local services in Cheshire and Merseyside.
More than 2800 residents, patients and their families from Cheshire and Merseyside, took part in 'What Would You do?' activities, which launched in March to encourage people to share their views on how extra money should be spent on local NHS services.
Click to download the full Cheshire and Merseyside Report or read the Liverpool findings in more detail.
Healthwatch Cheshire and Merseyside NHS Long Term Plan Public Views Report 2019