Aintree University Hospital Listening Event Report - 22 July 2019
Find out what patients and visitors told us about Aintree University Hospital when we visited in July 2019.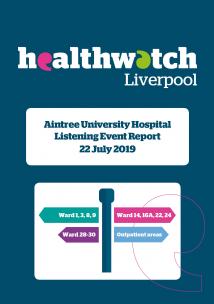 Summary
On 22 July 2019 we visited Aintree University Hospital and spoke to patients and their families about the care that they receive there.
Of the people we spoke to and who answered the relevant questions:
59% made positive comments about the caring and friendly approach of the staff
79% felt they had been given enough information about their treatment
91% would give Aintree Hospital a 4 or 5 star rating with an average rating of 4.48 stars out of 5
People made positive comments about the food and cleanliness
Only half of the people we spoke to felt that staff had enough time to care for them and other patients
Some people gave negative feedback about car parking and staffing levels
Conclusions
Aintree Hospital received a great deal of positive feedback from both patients and visitors at our Listening Event this year. 91% of the people we spoke to rated the hospital either 4 or 5 out of 5. There were a large number of positive comments about the staff, care, cleanliness and food.
We did receive less favourable feedback about car parking, communication and staffing levels.
Concern about staffing levels was also reflected in the fact that only around half of the people we spoke to felt that staff had enough time to care. A number of people expressed that staff appeared to be too busy and this impacted on their ability to deliver patient care.
The majority of people felt that the hospital was accessible, however some people did express concerns about the size and layout of the site.
Most of the inpatients we spoke to knew the nurse in charge of their care, however a significant minority did not. In addition, a majority of these inpatients had not been given an estimated date for their discharge or were unsure about this.
For those inpatients who had been moved during the night, the majority had been given a reason for the move and were happy to be moved. However, this was not the case for everyone as a minority of patients we spoke to had not been given a reason and were not happy to be moved.
We have provided the hospital with an anonymised version of the feedback that we captured. The hospital can use this feedback in conjunction with the other ways in which they capture patient experiences to see what is working well and any areas for improvement.
We look forward to continuing our work with Aintree Hospital over the forthcoming year and we will carry out a further Listening Event in 2020.