Talk Liverpool - Patient Feedback Survey: December 2018 - June 2019
Find out what people who accessed Talk Liverpool services thought about the service.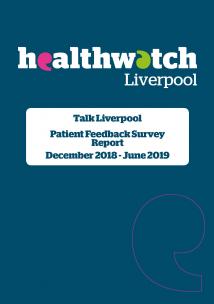 Summary
Between December 2018 and June 2019 we worked with Talk Liverpool, which is provided by Mersey Care, to get feedback about their services.
We printed 350 questionnaires that were distributed by Talk Liverpool staff to people attending Talk Liverpool courses.
The aim was to find out what course participants thought was good about the service, and what could be improved.
Key findings
Of the people we heard from who answered the relevant questions:
62% had been referred to Talk Liverpool
87% of those referred had been referred by their GP
26% had expected to be offered a group whereas 37% had expected to be offered face-to-face treatment
82% would give Talk Liverpool a 4 or 5 star rating with an average rating of 4.2 stars out of 5
The average length of time respondents had waited to start the course was 6.2 weeks.
Conclusions
Overall
Talk Liverpool received a great deal of positive feedback from people using its services in the questionnaires that we received, especially about the course contents and about the course leaders. This was also reflected by the average 'star rating' of 4.2 stars. When asked about possible improvements, the course contents were again mentioned most often. A variety of suggestions for improvement included providing examples or scenarios that were more relevant to course attendants. Several respondents also
mentioned that they would have preferred to have a choice on whether to attend a course, or receive faceto-face or 1-to-1 counselling.
Expectations
What we found: A majority of respondents did not expect to be attending a group, or weren't sure what to expect from a group setting.
Suggestion: Continuing to work with GPs and other referring parties to ensure that they can better explain what is on offer may help people know what to expect and to make an informed decision about attending.
Waiting time and capacity
We know that there have been, and are, pressures on mental health services, and that Mersey Care / Talk Liverpool has worked hard with commissioners to reduce the waiting times for people trying to access its services and increase the number of people able to access the service.
What we found: Our feedback shows an average wait of 6.2 weeks which is much quicker than the previous wait time for 1-to-1 therapy. We know that long waits are very difficult for people and so reducing this is to be welcomed.
Group setting
What we found: Although group settings allow more people to be seen more quickly, feedback showed that even some people who did attend found a group setting difficult or felt that their needs would have been better met in a 1-to-1 setting. This illustrates the difficulty of trying to meet diverse needs within a clearly defined model and limited resources.
Suggestion: It would be helpful to collect and analyse information about people who decline or drop out of courses and their reasons for doing so. The recent move to a "course first" model may lead to some people who really need support not receiving it. Monitoring will be important to understand the consequences of this.
We would also be interested in what happens to people who decline or drop out of courses and whether they are able to access alternative support but we are aware that this is not information which would be easily accessible.
We have provided Talk Liverpool with an anonymised version of all the feedback that we captured. Talk Liverpool/ Mersey Care can use this feedback in conjunction with other ways in which they capture patient experiences to see what is working well, and any areas for improvement.
We look forward to continuing our work with Mersey Care over the forthcoming year.