The Walton Centre Listening Event Report - 17 October 2019
Find out what patients and visitors told us about the Walton Centre when we visited in October 2019.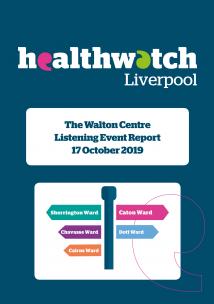 Summary
On 17th October 2019 we held our annual Listening Event at the Walton Centre. The aim of the day was to speak to as many patients and visitors as possible to gather feedback about the hospital. We wanted to find out what people think is good and what needs improving.
Of the people we spoke to and who answered the relevant questions:
93% felt they were made to feel welcome on the ward when they arrived
78% felt they had been kept involved in decisions or discussions around their treatment
46% said that staff had explained what was going to happen to them when they left the hospital
63% felt that staff had enough time to care for them and other patients
42% had been given an estimated date of discharge
100% would give The Walton Centre 4 or 5 stars with an average rating of 4.79 stars out of 5
Conclusions
As expressed in past Listening Events at the Walton Centre, the levels of satisfaction were high, particularly due to the hospitable staff and welcoming and clean environment.
Although it was evident that the staff strive to create a welcoming and hospitable environment for the patients, staff could be more conscious of the noise levels on certain bays (such as asking patients to listen to music with headphones or not having the radio on continually). Additionally, although the majority of people were happy with the level of care they received, the reported delays in delivery of medication were an evident issue that should be further looked into and addressed.
However, we are aware of the pressure NHS staff are under and acknowledge that sometimes these issues may be difficult to manage alongside all their other tasks.
We look forward to the next Listening Event in 2020 and continuing our work with the Walton Centre over the coming year.
Recommendation
We are aware that our findings cannot be generalised due to the small sample size, however one issue that came across clearly was around medication delays.
Therefore, we recommend that particular attention be paid to the issue of some patients having to wait longer than they should for their medication, as well as the delays in discharge caused by long waits for prescription medication being delivered before patients can leave the hospital.