Access to Dental Care: Online Focus Group - summary of findings
On November 26th 2020 we facilitated a small online focus group about Access to Dental Care. This short report summarises our finidings.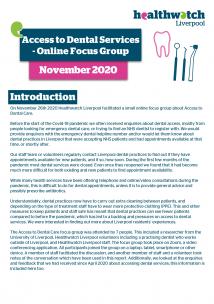 Before the start of the Covid-19 pandemic we often received enquiries about dental access, mostly from people looking for emergency dental care, or trying to find an NHS dentist to register with. We would provide enquirers with the emergency dental helpline number and/or would let them know about dental practices in Liverpool that were accepting NHS patients and had appointments available at that time, or shortly after. 
Our staff team or volunteers regularly contact Liverpool dental practices to find out if they have appointments available for new patients, and if so, how soon. During the first few months of the pandemic most dental services were closed. Even once they reopened we found that it had become much more difficult for both existing and new patients to find appointment availability. 
While many health services have been offering telephone and online/video consultations during the pandemic, this is difficult to do for dental appointments, unless it is to provide general advice and possibly prescribe antibiotics. 
Understandably, dental practices now have to carry out extra cleaning between patients, and depending on the type of treatment staff have to wear more protective clothing (PPE). This and other measures to keep patients and staff safe has meant that dental practices can see fewer patients compared to before the pandemic, which has led to a backlog and pressures on access to dental services. We were interested in finding out more about Liverpool residents' experiences.