Wellbeing: Online Focus Group - summary of findings
On 18th January 2021, to coincide with 'Blue Monday' we facilitated a small online focus group about Wellbeing during the Coronavirus . This short report summarises our finidings.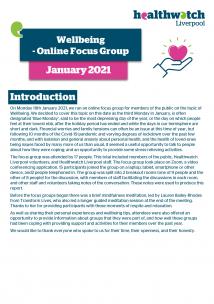 We decided to cover this topic on this date as the third Monday in January, is often designated 'Blue Monday', said to be the most depressing day of the year, or the day on which people feel at their lowest ebb, after the holiday period has ended and while the days in our hemisphere are short and dark.
Financial worries and family tensions can often be an issue at this time of year, but following 10 months of the Covid-19 pandemic and varying degrees of lockdown over the past few months; and with isolation and general anxiety about personal health, and the health of loved-ones being issues faced by many more of us than usual, it seemed a useful opportunity to talk to people about how they were coping; and an opportunity to provide some stress-relieving activities.
The focus group was attended by 17 people. This total included members of the public, Healthwatch Liverpool volunteers, and Healthwatch Liverpool staff. The focus group took place on Zoom, a video conferencing application. 15 participants joined the group on a laptop, tablet, smartphone or other device, and2 people telephoned in. The group was split into 2 breakout rooms (one of 9 people and the other of 8 people) for the discussion, with members of staff facilitating the discussions in each room, and other staff and volunteers taking notes of the conversation. These notes were used to produce this report.
Before the focus groups began there was a brief mindfulness meditation, led by Lauren Bailey-Rhodes from Transform Lives, who also led a longer guided meditation session at the end of the meeting. Thanks to her for providing participants with these moments of respite and relaxation.
As well as sharing their personal experiences and wellbeing tips, attendees were also offered an opportunity to provide information about groups that they were part of, and how well these groups had been coping with providing support and activities for their members over the past year.
We would like to thank everyone who spoke to us for their time, their openness, and their honesty.