Accessible Information Standard Project 2021 - Local Report
Our report delves into the experiences of people from minority ethnic communities who live in Liverpool and find it challenging to communicate with the NHS because they don't speak English well or at all.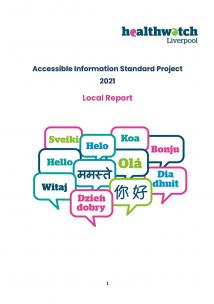 About the project
This project was undertaken as part of a wider national project orchestrated by Healthwatch England. You can find their national report, containing the research
undertaken by Healthwatch Liverpool and other local Healthwatch, here:
Lost for words: Healthwatch Evidence on how language barriers contribute to health inequalities
Healthwatch England state that the Accessible Information Standard (AIS) ensures people with a learning or sensory disability can understand and communicate with healthcare providers. However, they found that this does not currently cover the needs of people who have limited or no English.
This research delves into the experiences of people from minority ethnic communities who live in Liverpool and find it challenging to communicate with the NHS because they don't speak English well or at all. This report will also look into the issues faced by healthcare staff when caring for such people.
What we did
We interviewed 22 people and 5 members of staff between October and November 2021. Healthwatch England produced our interview guide following discussions with the local Healthwatch and a panel of "experts by experience" from Doctors of the World - an independent humanitarian movement that aims to empower excluded people to access healthcare.
What we found
Our evidence, along with evidence gathered as part of the national project via other local Healthwatch, found that people who experience language barriers struggle at all points of their healthcare journey. They find it difficult to register with a GP, access urgent care, navigate large healthcare premises, explain their problems, or understand what the doctor says. Interpreters were difficult to access for patients and service users, and some did not even know that they were entitled to them during healthcare appointments.
When patients and service users did receive language support, it was often inadequate. Interpreters sometimes did not show up, or individuals were provided with inappropriate support; interpreters who spoke an incorrect language or dialect, or interpreters who were not of the appropriate gender for a patient to feel comfortable when speaking about sensitive issues.
Some patients were told to use family and friends for interpretation, whilst other said they were not allowed. Sometimes patients preferred using friends and relatives to support them whilst others thought it was inappropriate.
When not provided with support, appointments had to be cancelled or rescheduled. Some patients had to rely on their own limited English, use other means to communicate such as hand gestures, or record consultations discussing their medical issues either via a device or on paper to be later translated by somebody else. 
Staff also felt constrained when trying to support patients with a language barrier. Staff told us that there was not an efficient or appropriate way to record and communicate to other services patient's language support needs. Staff mentioned other constraints such as staffing, time, resources, and budgets to justify why they thought patients were not being adequately supported with their communication. 
Patients and staff suggested various changes that could be made to made to improve support such as automatic alert systems to flag people's language needs, easier access to translated resources, and flexible support based on individual needs.
Recommendations
At the end of our research we made the following recommendations:
For there to be a clear method, known to all staff members, how to record patients' language and correct dialect (where applicable)
For staff to have easy access to telephone interpreting when face to face interpreting is not possible / an interpreter does not arrive
When an interpreter is being arranged, people's personal needs and preferences such as gender, locality of interpreter and, face to face or telephone interpretation should be considered and met where possible
For local NHS guidance regarding the permission of friends and relatives to interpret for patients to be shared and consistently adhered to where possible
Information about how to access and request language support to be produced in key community languages and widely disseminated
The recently produced guide to accessing NHS services to be widely available, and updated on a regular basis, in community languages
Confirmation to be provided that under the new Merseyside NHS language contract there is appropriate vetting to ensure that interpreters are qualified enough to provide language support in healthcare environments
NHS providers to establish a clear route to request and be provided with important medical forms or documents translated into the patient's language from English
The training element of the new Merseyside NHS contract to be widely promoted and then evaluated to help ensure that NHS staff are trained in regard to cultural sensitivities and the importance of addressing language support needs in healthcare consultations 
Accessible Information Standard Project 2021: Healthwatch Liverpool Local Report
Translated Summary Reports
As well as our full report, available in English, we have a short summary of our findings available in Arabic, Bengali, and Chinese.