Jen, a member of the Healthwatch Liverpool team and herself an unpaid carer, takes a look at what we're doing for Carers Week 2018.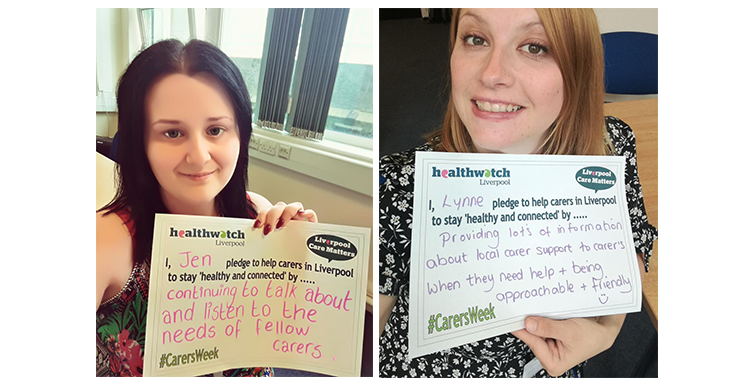 Today marks the start of Carers Week 2018. Here at Healthwatch Liverpool, we're joining in to raise awareness of unpaid caring, highlight the challenges carers face and celebrate the contribution they make to our local community.
Many carers tell us that the health and care of their loved ones is top priority, getting in touch with us for advice and information for the person they care for. However, we also know that taking care of others also means taking care of yourself. This isn't always happening with 51% of carers across the UK saying they let a health problem go untreated.
The theme of this year's Carers Week is staying 'Healthy and Connected'. Our team are making pledges to help you with exactly that! Check out our staff's pledges above.
We know that you need services that work for you and that fit in around your life - all of our needs are different. We're here to help you to understand the options and be able to make informed choices through our information service – a caring response from people with a wealth of knowledge, professional and personal experience. We're also here to hear about your experiences, needs and preferences of health and care services.
Carers can face a variety of barriers, which can make staying healthy and connected much harder. We're currently looking in more detail at one of the ways that Liverpool tries to support unpaid carers – the carers voucher scheme. Carers vouchers are redeemable for visits from professional care organisations, to enable unpaid carers to have some respite from their caring role. If you're an unpaid carer, we are currently seeking your experiences on taking breaks from caring, whether you have used the voucher scheme or not. We will use what you tell us to encourage those who run services to act on what matters to you.
Share your experiences by taking our short survey
We would love to hear from you, to hear more about your needs, your experiences and what you and your loved one need from Liverpool health and care services. Our helpful colleagues are ready to help! Just click 'Contact Us' now and let's start the conversation.
Or come and meet us along with many other services at Liverpool's Annual Carers Celebration Event! We will be at Williamson Square, Liverpool City Centre, on Thursday 14th June 2018, 10.30am – 3.30pm. We hope to see you there!
And finally I, as a fellow unpaid carer, and everyone else in the Healthwatch Liverpool team would like to add our voices to the great big 'thank you' for the important contribution that carers make here in Liverpool - not just during Carers Week, but every week of the year.