New city-wide awareness campaign launched as part of Deaf Awareness Week
NHS Liverpool Clinical Commissioning Group (CCG) is launching a new city-wide campaign aimed at improving care for patients in Liverpool with communication needs.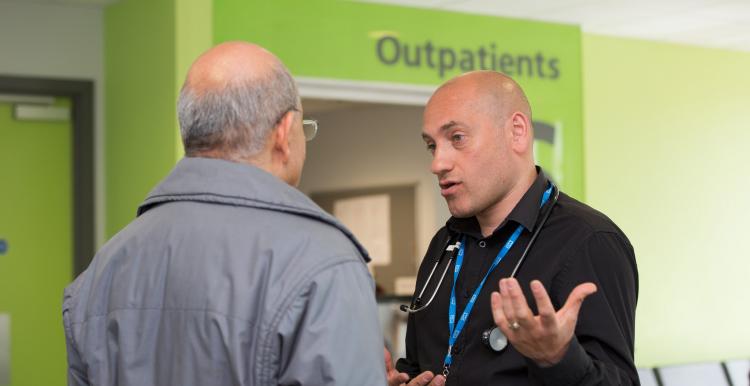 The 5 Rights campaign will remind both NHS patients and staff of the rights that everyone has when accessing healthcare services – including those who rely on braille, BSL, or other interpretation services.
The campaign launch coincides with National Deaf Awareness Week 2019 (6 - 12 May), supported by hospitals, GP practices and other NHS health services across Liverpool.
The campaign highlights how the NHS is required to follow 5 important steps when providing care to anyone who is D/deaf, blind, visually impaired, has speech or language difficulties, or any other communication need.
These are:
Ask if you have any communication needs.
Record those needs on your health records.
Ensure that those needs are easily visible on your records.
Share those needs with other services if you are being referred.
Make sure those needs are met as part of ALL care.
If this doesn't happen, patients have the right to complain, and can do this at any time by contacting NHS Liverpool CCG's Complaints Team: call (0151) 247 6454 or email: complaints@liverpoolccg.nhs.uk. You can also contact us here at Healthwatch Liverpool.
The campaign is part of a wider local NHS review which is looking at ways to improve care for patients with communication needs, and was informed by detailed patient engagement with this group.
Dr Fiona Lemmens, GP and Chair of NHS Liverpool CCG said:
"Over the last year, Liverpool CCG has been working with local NHS Trusts and other key partners to help identify some of the key challenges facing members of our local community who have communication needs, when they need to access health services.
"We know that the quality and availability of interpretation services for patients in Liverpool, can be inconsistent – depending on when and where a patient is treated.
"This campaign is part of our ongoing commitment to improving care and ensuring that   all patients in Liverpool receive the same high quality services, regardless of their needs – and whichever part of the NHS they access support from."
The campaign also aims to increase awareness of how to access the emergency services if you have a communications need – by using Emergency SMS or Relay Assistant services.
To use Emergency SMS, you can simply text the word 'register' to 999 to set up the service on your mobile phone or device.
To use Relay Assistant, dial '18000' through the Next Generation Text (NGT) app or from any textphone now to get set up.
For more information about the campaign, please visit www.liverpoolccg.nhs.uk