Lost for words – improving access to healthcare for ethnic minority communities
During October and November 2021, we participated in research in partnership with Healthwatch England to gather experiences of translation services within the NHS.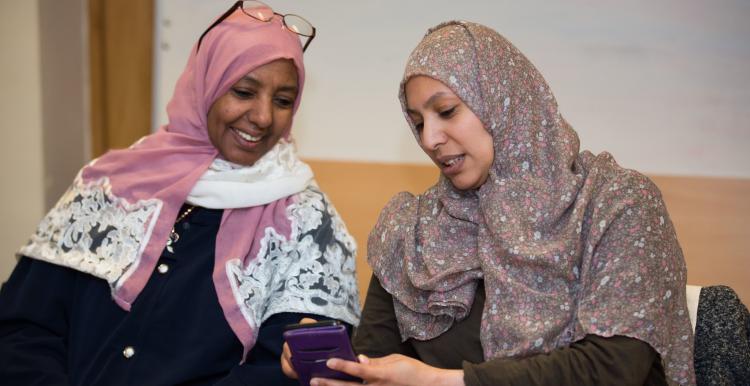 Clear, understandable information is vital to help you make decisions about your health and care and get the most out of services. Healthwatch England's latest research shows that people who speak little or no English struggle at all points of their healthcare journey. These are often some of the most vulnerable in our society, for example, refugees and asylum seekers.   
They find it difficult to register with a GP, access urgent care, navigate large healthcare premises, explain their problems, or understand what the doctor says.   
Lack of interpreting support further compounds their struggles. They may not know they can ask for professional interpreters, find it difficult to access one when needed, or even understand them if interpreters don't speak their dialect.   
As a result, people who speak little or no English face significant barriers and delays in receiving care, putting them at a disadvantage and contributing to health inequalities. Healthwatch England's report outlines key recommendations to improve access to health care services for these populations.
Healthwatch England's full report is available on their website. The report is currently available in English and Easy Read.
We have also published our own local report, looking at people's experiences of translation and interpretation services in Liverpool.
Rights to accessible healthcare   
The NHS Act 2006 puts a legal duty on healthcare services to reduce inequalities for patients who cannot speak English "in respect to their ability to access health services; and the outcomes achieved for them by the provision of health services."  
In 2016, NHS England (NHSE) created the Accessible Information Standard (AIS), making it mandatory for all health and social care providers to provide information in accessible formats, such as in British Sign Language or easy read.  NHSE is currently undertaking a review of the AIS and will publish a report in spring this year.
However, the standard doesn't apply to people who cannot speak English and plans to address the many challenges they face in accessing healthcare information and communication support are less clear.   
What can be done?   
To improve access to and quality of interpreting and translation services, Healthwatch England have set out the following recommendations:  
Department for Health and Social Care and NHSE should urgently introduce new statutory guidance for all health and care providers on commissioning interpreting and translation services. Services must have a legal duty to ensure that interpreting services are provided when required.   

NHSE should carry out a review of standards surrounding interpreting and translation to include all major areas for improvement identified in our recommendations for the review of the AIS. This should include improved frameworks for accountability, improvements in IT systems to support patient flags and sharing of information, involving patients in designing services and better staff training.

NHSE and leaders across Integrated Care Systems (ICS) should use the transition to ICS to clarify their duties in the provision of interpreting and translation services. They should ensure contracts are designed to support integration and continuity of care as part of this.