Carers Voucher Scheme Report - September 2018
Read our review of the Carers Voucher Scheme in Liverpool carried out as part of the Liverpool Care Matters project.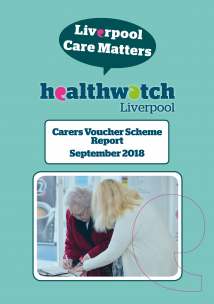 Summary
The Carers Voucher Scheme is provided by Liverpool City Council as a service to carers to give them a break from their caring role. The scheme involves the carer using vouchers provided by Liverpool City Council to "purchase" replacement care hours from a list of approved provider care agencies. A care worker from the agency visits the cared for person at home for pre-booked appointments to sit with them to ensure their safety and wellbeing whilst the carer has a break. The scheme has been running in Liverpool since 2002 and was last formally reviewed in 2006.
We were approached by Liverpool City Council in April 2018 to carry out an independent review of the Carers Voucher Scheme. The Council were aware that it had been some time since the last review and were also aware that some carers were referred to the scheme and either never used it or only used it a handful of times before stopping. The Council were keen to find out the reasons for this and if the scheme was still meeting the needs of carers in Liverpool.
Key Findings
Carers who use the scheme
Carers who use the scheme regularly report high levels of satisfaction
The main issue with the scheme is a lack of capacity with the provider care agencies
Carers have also highlighted a lack of communication from provider care agencies as a concern
Some carers would like the scheme to be made more flexible to encompass some care tasks such as toileting and medication prompts
Carers who do not use the scheme
The majority of carers are not able to get regular breaks from their caring role
This has an impact on their health and wellbeing. They struggle to have a life outside caring and experience tiredness
Awareness of the Carers Voucher Scheme is low as the majority of carers haven't heard of the scheme
The report also includes insights from professionals who work with carers and care agencies who provide care services via the scheme.