Mersey Care NHS Walk-in Centres Listening Event Report - October 2018
Find out what patients and visitors told us about Mersey Care's NHS Walk in Centres when we visited in October 2018.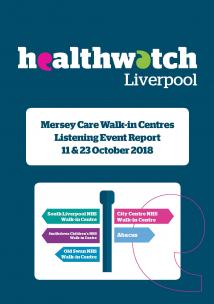 On 11 and 23 October 2018 Healthwatch Liverpool held Listening Events at the 4  Liverpool Walk-in Centres (WIC), based in South Liverpool, Old Swan, the City Centre as well as the Smithdown Children's WIC.
We also spoke to patients using the Abacus sexual health service which shares a waiting room with the City Centre WIC. Since April 2018 these services have been provided by Mersey Care NHS Foundation Trust.
Most of the feedback that we received about these services was positive; however, after having analysed the feedback we do recommend:
That Mersey Care looks at options for enlarging the waiting room area at the Children's WIC;
That Mersey Care raises more awareness amongst patients about how to raise a concern or make a complaint. As the PALS and Complaints teams have recently merged this is probably a good time to relaunch this service to a wider audience.